'Tis the Season for Tasty Cocktails: Gingerbread Martini Recipe
|
Some people look forward to the holidays for the beautiful decorations.  Others, for quality family time.  Me…?  I'm all about what really matters this time of year:  HOLIDAY COCKTAILS.
Hey, I may not be much of a cook, but I can make one heck of a gingerbread martini.  Seriously, one of the yummiest cocktails in my repertoire.  Here's my top-secret recipe (that I will spill to anyone after drinking a couple of these bad boys):
GINGERBREAD MARTINI INGREDIENTS
1 ounce gingerbread syrup (after fruitless searches for the syrup at various stores, I finally tracked it down by going to Starbucks — which doesn't sell seasonal syrups by the bottle — and ordering a gingerbread latte with the syrup on the side. Sounds like a weird request, right? Only the barista didn't bat an eye, so I told her why I was getting the syrup on the side and she was all, "Oh! I'll just sell you some syrup for fifty cents then!" I may or may not have grabbed her Starbucks hat and pulled her towards me for a big, grateful kiss at that point.  Also available at Amazon.com.)
1-2 ounces vodka
1 ounce Kahlúa
1 ounce Baileys Irish Cream liqueur
2 ounces vanilla milk
Whipped cream
Graham cracker crust for rim of glass
Gingerbread cookie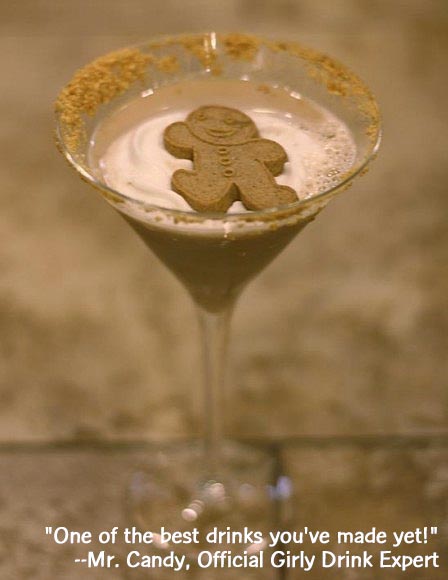 Oh. My. Yum.
If you are hosting a holiday party — or just celebrating your own Moment of "I Totally Need a Break from Facebook" Zen — I highly recommend whipping up this sweet, smooth, goes-down-way-too-easily martini. After one sip, you'll be as happy as this guy: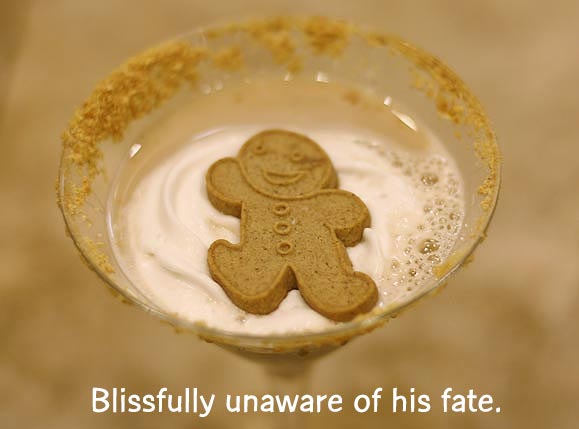 And after a couple drinks…? You may end up floating in a similar pool of whipped cream. (Sorry, I promised my husband I wouldn't post the photographic evidence.)