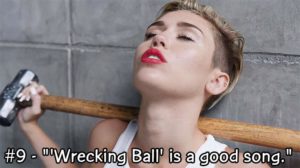 Oh, c'mon.  You know at least one of these embarrassing thoughts has crossed your mind, too.  (Or at least lie and tell me it has to make me feel better.)
10.  Seriously? Only 3 likes and 1 "lol" comment for that HILARIOUS Facebook update about my trip to Target? Hmpf.
9.  "Wrecking Ball" is a good song.
8. I wonder what people will say at my funeral?
7.  I need to accomplish something REALLY AWESOME before my high school reunion next year.
6. What's the right amount of time to wait before adding someone on LinkedIn?
5. Oh dear. That kid is not very cute.
4. If I give my husband a weird look, maybe everyone will think that HE'S the one who passed gas.
3. I wish the Property Brothers would nail me instead of that wall.
2. I would totally get a face lift when I'm older if I knew it would turn out like Jane Fonda's.
1. Yes! The 7-Eleven cashier carded me! I'VE STILL GOT IT!